Tassel Flowers Tutorial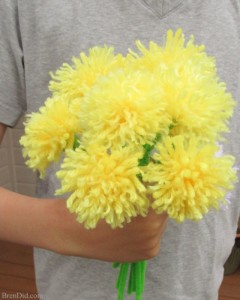 We all love flowers. We love to give them as a gifts and receive as a presents. Flowers present an absolute beauty created by nature itself. If you want to make your own flowers, ones that are going to last longer than natural ones and just as beautiful and appealing than I guess I have an excellent tutorial for you.
I found this easy tutorial on Bredid.com. It is a wonderful place with a lot of interesting stuff and I encourage everyone to surf their website. This tutorial was such an easy one that I literary had no chance but to make it. It is so easy you are going to be shocked, even though my first attempt was not successful. If you like what you see on the photo, than congrats – I am about to share with you the tutorial provided by an original author.
Check Out Full Tutorial via Link Below:
How to Make Tassel Flowers