Baby Jersey Tutorial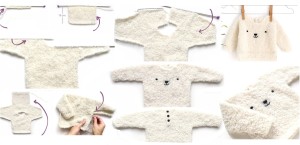 Today we are going to learn to make a beautiful baby jersey. Let's keep our babes warm this season with the help of the marvelous tutorial by @Creativaatelier. They always tend to provide very detailed explanation of all of their project and this one is not an exception.
The tutorial will guide us through all the major steps necessary to complete the baby jersey. With all the photo explanations we are going to look at a finished jersey with a bear face all over it. It should definitely be fun so let's put our needles to work. See you next time.