Zigzag Blanket with Squares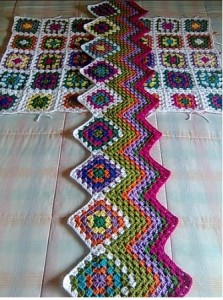 Let's look at one of the most beautiful project that we have seen in the recent past. We believe that when different knowledge is combined a beautiful and original piece of art may be born. The project we are going to look at today is a clear example of this notion.
Making blanket from a motif squares is a great thing to master and we ourselves love to create project alike. Zigzag afghan is also one of our favorite afghan types to go for. When combined these two different approaches we get this beautiful work of art – zigzag blanket with squares.
For more info follow the link below:
Zigzag blanket with squares