Ribbed Scarf Beginner Tutorial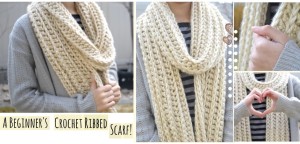 We would definitely be in a need of a descent scarf this winter. In some places there is already cold enough to wear something and keep our neck warm. Ribbed designs are one of our favorites thus we searched for the scarf that bared the same appearance Luckily, we have found one and did so pretty easily.
In this quite popular tutorial we are going to learn to crochet a wonderful ribbed scarf. The tutorial is labeled as a beginner level one and it is truly pretty easy to follow all along the way. A beautiful and very useful tutorial, what else do we need to put our hooks to work?