Crochet Halloween Pumpkins and Ghosts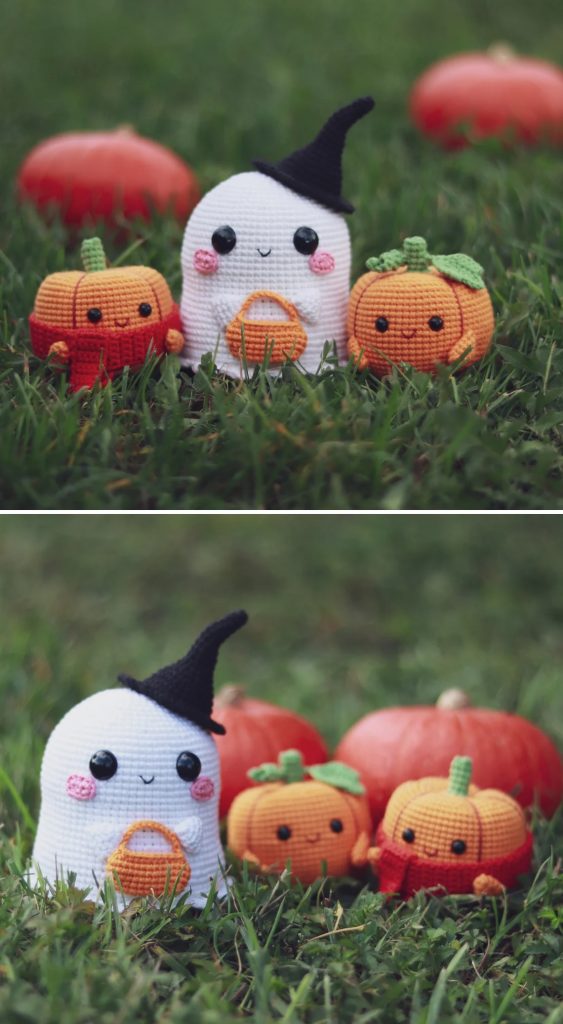 Halloween is just around the corner, and it's time to get into the spooky spirit of the season! What better way to embrace the eerie charm of All Hallows' Eve than by crafting your very own crochet Halloween decorations? In this ghoulishly delightful article, we'll explore how to create crochet pumpkins and ghostly apparitions that will transform your home into a festive fright zone. So grab your crochet hooks, some yarn in eerie colors, and let's get crafting!
Crochet Pumpkins: A Dash of Harvest Magic
Nothing says Halloween like a group of grinning crochet pumpkins adorning your home. These delightful decorations are easy to make and can be customized in a variety of sizes and colors. Here's how to bring some pumpkin pizzazz to your Halloween festivities:
Materials You'll Need:
Orange and green yarn
Crochet hooks in various sizes (depending on the desired pumpkin size)
Fiberfill stuffing
A yarn needle
Black embroidery floss for facial details
Crochet the Pumpkin Body: Start with the orange yarn and crochet a circle using single crochets. Increase the number of stitches in each round to create a round pumpkin shape. Make sure to leave an opening at the top for stuffing.
Stuff and Shape: Once you've reached your desired size, stuff the pumpkin with fiberfill to give it a plump appearance. Use the yarn tail to cinch the opening closed and secure it.
Add the Pumpkin's Face: Using black embroidery floss and a yarn needle, stitch on a spooky or silly face to give your pumpkin its unique personality.
Crochet the Stem: Switch to green yarn and crochet a stem. Attach it securely to the top of the pumpkin.
Your crochet pumpkins are now ready to haunt your Halloween décor! Make them in different sizes and arrange them around your home for a festive, harvest-themed ambiance.
Crochet Ghosts: Floating Phantoms of the Night
No Halloween decor is complete without a few friendly crochet ghosts drifting through your living space. These charming little spirits are perfect for adding an eerie yet whimsical touch to your celebrations. Here's how to create your own crochet ghostly apparitions:
Materials You'll Need:
White yarn
A crochet hook
Fiberfill stuffing
Black embroidery floss for spooky eyes
Crochet the Ghost Body: Start with white yarn and crochet a magic ring. Work in continuous rounds to create a tube-like shape, increasing stitches as needed to create a flowing ghostly form.
Stuff and Shape: Stuff your ghost with fiberfill, ensuring it's plump but not overstuffed. Continue crocheting until you have the desired length for your ghost's body. Then, decrease stitches to close the bottom.
Add the Ghostly Face: With black embroidery floss and a yarn needle, stitch on two round eyes and a smiling mouth to give your ghost its friendly yet eerie expression.
Create a Hanging Loop: Make a chain with the white yarn and attach it to the top of your ghost's head to create a hanging loop.
Hang your crochet ghosts from the ceiling, place them on shelves, or let them dangle eerily from doorknobs. They'll bring a delightful touch of spookiness to your Halloween décor.
Conclusion
With a bit of yarn and some crochet magic, you can create your own crochet Halloween pumpkins and ghostly companions to add a festive and eerie atmosphere to your home. These DIY decorations are not only fun to make but also provide a personal touch to your Halloween celebrations. So, grab your crochet hooks and get ready to craft your way into the spirit of Halloween! Your home will be transformed into a haunted haven in no time, and your guests will be spellbound by your crocheted creations. Happy Halloween!
Similar Videos that might help: