Linda's Snowflake Potholder Pattern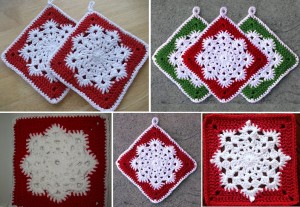 Today we are going to learn yet another Christmas tutorial that is going to fill our holiday project list. In today's tutorial that we are about to share to you, we are going to learn to crochet a beautiful snowflake potholder.
A lot of various crocheters have made these potholders however the original pattern is by Linda Bohrn and you can view her R-page here. This particular tutorial is pretty easy but it certainly has something unique about itself and it is the reason of it being such an appealing project. I can't wait to make these beauties myself, see you next time dears.