From Flip-Flops to Moccasins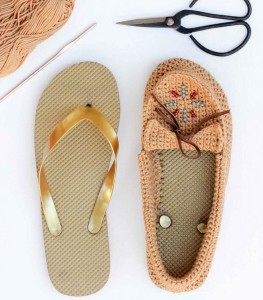 Today we are going to take a simple flip flops, do a little bit of art work on them and in the end create a beautiful absolutely gorgeously looking moccasins. With the help of the tutorial that we have recently found online this job will be pretty easy to handle.
The tutorial for this beautiful moccasins was found on @makeanddocrew. We strongly recommend all of you to surf their blog for the great ideas and tutorials that can be easily found there. As for this moccasin guidelines, everything was so perfectly delivered that we had no problems making them and we are sure that you are going to succeed as well.
Follow the link below for the instructions:
Flip flops to moccasins from MaDC