Crochet Mini Dress Tutorial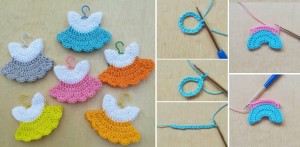 Crocheting something for us is of course a fun thing to do. However, time to time I love to crochet ornament materials that are not necessary made to be wear by a person. These lovely dresses present a beautiful piece of art. I think that even though the usage of them is very narrow, still it presents a valuable art work for the time need to be consumed.
I absolutely love these beauties and willing to crochet them in multiple colors. If you like them as well than luckily enough I have found a complete tutorial and about to redirect you to it. Enjoy every bit of the crocheting process and may we make these lovely dresses together.
Find a tutorial via link below:
How to crochet mini dress