2017 – The Year of Rooster (Crochet Tutorial)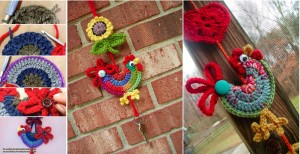 As we all know 2017 is the year of Rooster according to Chinese zodiac. Even though that a lot of you may have little to no interest in Chinese zodiac or in zodiac studies whatsoever, it is still entertaining to crochet a rooster decoration for the New Year. The tutorial we are going to you will definitely help, a lot.
According to the tutorial that we found online, it is pretty easy to make a rooster decoration. Mainly, I at least, it will be used as a Christmas tree decoration as a welcome symbol for the year of rooster. It is a beautiful project that will end up being a lovely decoration for our homes.