Fingerless Mittens – Tutorial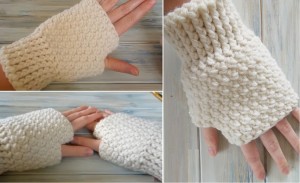 Fingerless mittens – these are what we are going to learn to make for today. I believe that there are a plenty of you who were search of a similar project because the days are getting pretty cold out there. Well. Luckily enough we have found a very popular video tutorial and decided to share it on our blog.
In this tutorial you are going to look at all the steps, in details and explained in English. The results should come with the first try, we believe, however if something stays uncertain make sure to watch the guidelines again, we believe you will find answers for all the questions that may arise along the crocheting way.
Fingerless Mittens Tutorial Here