Beautiful Flower Crochet Tutorial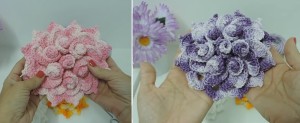 This is truly an original flower to crochet, something very creative and clearly very beautiful. Even though we may be a bit frightened after the first view, I believe most of us will end up making this beautiful project. It is not a tutorial that can be described as – hard, nevertheless it is not the easiest as well.
The tutorial covers all the necessary info you are going to need in order to make a complete flower. I am just starting making this one and hopefully will end it soon enough and upload the photo. Till then join and make your own flower according to guidelines.
Check out the tutorial – Here