Baby Booties Tutorial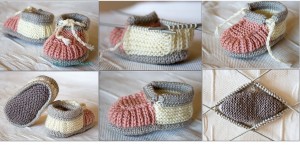 Making gifts for the babies is something we all love and I guess we all share the same feelings when it comes to this. Each and every time I do something for the babies makes me feel like I am a better person, funny but it is how I really see myself after the kid-projects. I searched for some interesting knitted baby booties' tutorials and I think that have found a profound one to share with you dear friends and fellow art lovers.
This tutorial was found on liveinternet.ru. I am not quite sure who is the author of this pattern and it is hard to give full appreciation because of this reason however let's assume that the website the tutorial was given has something to do with the creative thought behind the pattern. I am sure than knitting enthusiasts are going to like this tutorial, which is complete and explained in details. Let's knit.
Check out the tutorial via the link below:
How to knit these baby booties