Peppermint Pinwheel Doily Pattern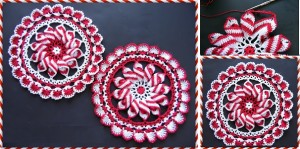 Today we are going to look at a beautiful Peppermint Pinwheel Doily tutorial. I believe that this is easily one of the most beautiful projects that we have come across for quite some time. It will truly be a great addition to our Christmas projects. I encourage all of you to check out the pattern.
The tutorial was found on @ bellacrochet. A lot of you may have already visited this blog. If not, make sure to do so, we guarantee that you are going to find a lot of extremely useful materials and creative ideas there. Meanwhile let us guide you to the pattern by Elizabeth Ann White
For BellaCrochet only.