Flower Beanie by DCD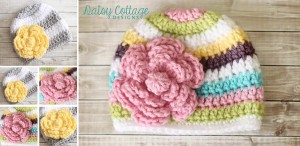 Today we are going to take a look at a beautiful flower beanie tutorial. Even though it might seem as a simple beanie design it has something great and unique about its' appearance that made us to share the tutorial on our blog.
We found the complete pattern for this beanie on @daysicottagedesigns. It is truly a special blog to check out, highly recommended by our crew. The beanie pattern they have written is simple to understand and to follow along as well. We believe that most of you are going to make this hat without any problems and within the reasonable amount of time. Enjoy the crafting process, see you soon!