Crochet Turtle Squares
We all love tiny animal projects. We also tend to make the project that carry some usage as well. Today we have a tutorial that is a healthy combination of both. We are going to learn to crochet turtle squares.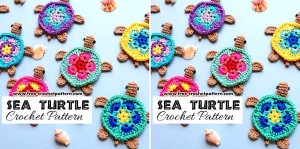 These are sea turtles as you may have already noticed from the photo. The idea is to make a square out of these beautiful creature' shapes. The pattern is pretty easy to follow. We will guide you to the source page for more information. The results you are going to get out of this pattern are cute and useful at the same time and that what's Design-Peak's project choices are in general.