Crochet 3D Flower Tutorial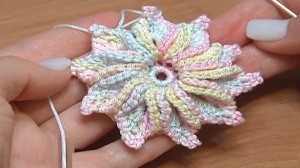 One of the prettiest 3D flowers is about to be crocheted. I guess each and every person landed on this page is going to try to make this beauty. It is an easy tutorial to follow and if you have sufficient skill set, which by the way is not something extraordinary, than you should be fine. As with a lot of various flower tutorials applying some shiny material in the middle of the project may be a great choice, however with this one I am going to pass.
In this tutorial we are going to learn to crochet an exact same flower we see on the photo and it is about to get done in the matter of 30 minutes I guess. Enjoy the crocheting process dears and may you have fun.
See the tutorial – Here