Butterfly Stitch Tutorial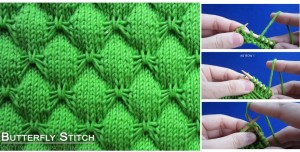 Today we have a beautiful tutorial for the craft lovers here on our beloved Design-Peak. This tutorial is suited for the knitters however I truly believe that a craftsmen is a craftsmen and even if the primary interest is crochet or sewing, everyone should try all of the techniques in order to fulfill arty desires. This tutorial is going to help all of you.
Butterfly stitch is a very interesting and useful technique you should learn. The tutorial is not the easiest one however with a careful approach you are going to be just fine. Just follow all the steps shown in the tutorial. Have fun and learn how to knit with us.
Check out the tutorial via link below:
How to make butterfly stitch